Plastic Valves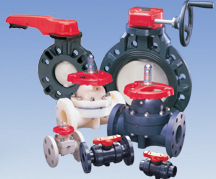 Asahi/America plastic valves provide a dependable and economical way to handle corrosive chemicals, including sulfuric and hydrofluoric acid, nitric acid, oxidizing chemicals, caustics, solvents, halogens, and various other hostile fluids. They perform at temperatures up to 250ºF, pressures up to 230 psi, and flows up to 18,500 gpm. All valves meet or exceed ANSI Class 6 shut-off. Styles include ball, butterfly, diaphragm, check, globe, gate, pressure relief, constant flow, & sight glass valves.
---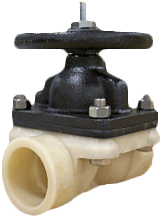 Hills-McCanna is the USA pioneer and a world leader in the design, production and application of diaphragm valves. First introduced over 75 years ago, Hills-McCanna valves have consistently proven their value in tough applications through years of reliable service. The valves are designed to handle a wide range of fluids and gases including highly corrosive toxic chemicals and abrasive slurries. Available in a wide variety of materials and options in sizes 1/2" to 12" with a temperature range of (-)40ºF to (+)400ºF at pressures to 200 psig.
---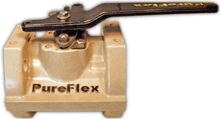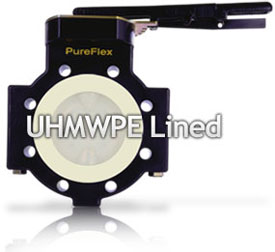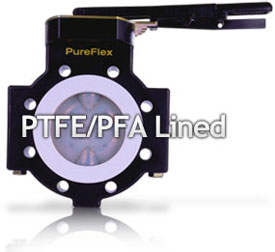 PureFlex advanced composite ball & butterfly valves are the strongest, lightest, most chemically resistant valves in the industry. The ceramic lined composite ball valve provides unmatched impact resistance and is able to withstand abrasion, cavitations, wear, thermal cycling and severe corrosive media. The valves have the strength of steel with 1/2 the weight and are 10x more impact resistant than standard FRP. They are used for shut-off and throttling of most known corrosive fluids, and have the purity required for ultra-pure applications. They can be used for end of the line service and are bubble tight at full rated pressure of 150psi, have triple stem seals and can operate at temperatures of -60ºF to +250ºF.