Coverage Area
Washington, Oregon, Idaho, Montana, Wyoming, N. Nevada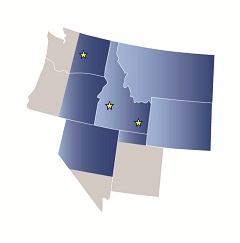 People
The cornerstone to our success is our people and their relationships with our customers. Please contact any one of us to find out how we can help with your process control requirements. We value your input and hope to develop a strong relationship with you.
Ted Hanson, President

Email: thanson@westernstatesautomation.com

Raised on a farm in Northern Iowa, Ted learned the value, and reward, of hard work. After serving in the Air Force in Idaho, he fell in love with the Lovely Office Head Honcho, and the great outdoors. He loves the challenge of every application and providing solutions with engineered products. He has 15 years of experience working with customers in wide ranging industries in the Inland Northwest.
David Wilson, Account Manager - SW Idaho & E Oregon

Email: dwilson@westernstatesautomation.com

I was born and raised in Southern California where I started my career in industrial sales. My wife and I have two wonderful children. My family and I moved to Elko Nevada to raise our children in a more rural community. In the mining industry I learned the pump and valve industry with some of the harshest applications imaginable. After 17 years, my family and I had an opportunity to move to Boise and we love it here. I am really looking forward to putting my 30 years of experience in industrial sales to work in Idaho.
Trent Harris, Account Manager - E. Washington, C. Oregon, N. Idaho

Email: tharris@westernstatesautomation.com

Trent is an Automation and Instrumentation specialist who graduated from Perry Technical Institute in Yakima and lives in Pasco, WA. His training at Perry Tech has provided him with excellent understanding and expertise in the process control field. Trent also has several years of experience in the field working at chemical plants and paper mills, which gives him some great perspective beyond a college education only. When Trent isn't with one of you at your facility or glued to his computer screen sending product ideas, he is typically training hard at the gym or spending time with his gorgeous wife and daughter, his two best friends. He also does competitive downhill mountain bike riding and loves motorcycles of all kinds.
Sean Yardy, Account Manager - E. Idaho & Montana

Email: syardy@westernstatesautomation.com

Sean is an Automation and Instrumentation specialist graduated from Idaho State University with an Associates Degree in Instrumentation Technology. Sean has lived in Southeastern Idaho for the majority of his life and considers it the only home for him. He lives in Pocatello and is blessed with a 2 year old daughter, Everly, who is his motivation to excel in everything he does.
Curt Housley, Inside Sales

Email: chousley@westernstatesautomation.com

I was born and raised in Southwest Idaho and have a degree in Mechanical Engineering from the University of Idaho. During the 18 years that I have worked with contractors and wholesale distributors, I have been an estimator, designer, technical support rep, inside sales rep, and spent time in the field getting my hands dirty. I look forward to working with our clients to help them solve their control needs. I'm a private pilot that has a love/hate relationship with golf and can fall down a ski hill with the best of them.
Michael Willis, Inside Sales

Email: mwillis@westernstatesautomation.com

In the years of living in Idaho, I've learned to slow down and explore the great outdoors more with friends and family. I have a passion of working with customers while problem solving and working towards lasting viable solutions. One of my strengths is building business relationships while benefiting both customers and the company. Over the last few years, riding the motorcycle up in the mountains with my wife is often a great pastime.
Heather Hanson, Administration/Lovely Office Head Honcho

Email: hhanson@westernstatesautomation.com

"Everything is a blur from the time I met the most amazing man on earth." Quotes like these from Heather are commonplace in the office. "I can't imagine doing anything other than whatever Ted asks". Nuff said!